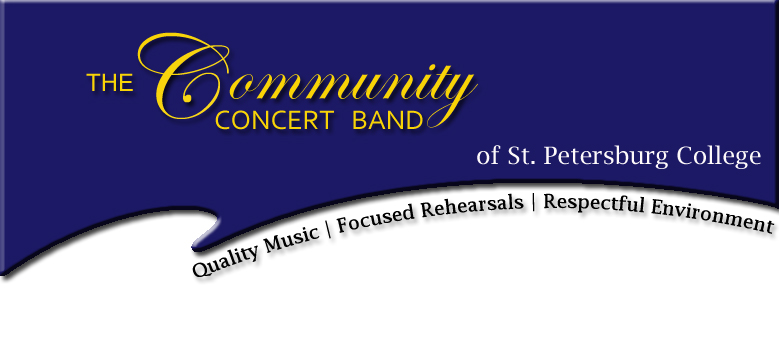 Overview
The Community Concert Band is for SPC college music majors, college non-music majors, advanced high school musicians*, and community members. The Community Concert Band promotes musical growth through quality music, focused rehearsals, and a respectful environment.The ensemble performs an average of 2 times per semester at the SPC Music Center, the Palladium, and various venues throughout the St. Pete/Tampa area. The Community Concert Band works with guest composers and conductors regularly. Rehearsals take place Tuesday evenings from 7:00 to 9:00 p.m. on the SPC St. Pete/Gibbs campus. The ensemble can be taken for 1 credit at standard SPC tuition rate, or musicians may participate in this ensemble through the Life Long Learning program at the rate of $25 per semester. Scholarships are available to SPC students who are enrolled in at least 8 credit hours.
History and Development
The Community Concert Band has been a staple at SPC for over 50 years under various titles such as the College Band, the Symphonic Band, and the Concert Band. Recently, the group was renamed The Community Concert Band at St. Petersburg College, and the rehearsal time moved to Tuesday evenings from 7:00 to 9:00 p.m. to promote growth through community involvement and better facilitate SPC student and community members' schedules. In addition to weekly rehearsals, those participating in the ensemble for college credit receive further academic instruction, regarding composers and concert repertoire, through Internet-based resources and online graded assessments. Past conductors include Christopher Styles, Dr. Jonathan Steele, Dr. John Bannon, and the wind ensembles are currently under the direction of Professor Nathan Muehl.
Resources and Support
The Community Concert Band has the full resources and support of St. Petersburg College. This includes rehearsal and performance space at the St. Petersburg/Gibbs campus, the acoustically perfected SPC Music Center, and the Palladium in Downtown St. Petersburg. Multiple sets of timpani, chimes, concert bass drums, marimbas, xylophones, crotales, and vibraphones fill out our healthy set of percussion equipment. Over 800 pieces in our music library feature such masterworks as the Dahl Sinfonietta, the Hindemith Symphony for Band, Holst's Hammersmith, Grainger's Lincolnshire Posy, Stravinsky's L'Histoire du Soldat, Ticheli's Blue Shades, de Meij's complete Symphony No. 1 "The Lord of the Rings," Yo Goto's arrangement of Puccini's Turandot, and much more. The Music Industry/Recording Arts program (MIRA) at SPC provides access to state of the art equipment and experienced engineers for recording projects. Most importantly, dedicated faculty and administrators work together to ensure the success of the program.
Instrumentation
The Community Concert Band consists of standard woodwind, brass, and percussion instruments with no size limit. Included instruments consist of the following.
Flute/Piccolo

Oboe/English Horn

Clarinet (Bb/Eb)

Bass Clarinet

Contrabass Clarinet

Soprano Saxophone

Alto Saxophone

Tenor Saxophone

Baritone Saxophone

Bassoon

Contra Bassoon

Horn

Trumpet

Trombone

Euphonium

Tuba

Double Bass

Percussion


Music Major Empowerment Sessions
Continual improvement through character development, special projects, and individualized guidance towards empowerment.
Those enrolled the ensemble for credit may participate in weekly empowerment sessions. The leadership program promotes character development, advanced time management skills, people skills, and special projects. Students will aid in creating a customized plan that promotes personal life balance and betterment of the music ensemble. Interaction with section members provides real life application of learned skills. Program includes weekly check-ins with the director.
*High school students accepted into the SPC ensemble must be members of their high school bands and positive influences on the high school music programs. Joining the SPC ensemble is an extra opportunity not a replacement opportunity.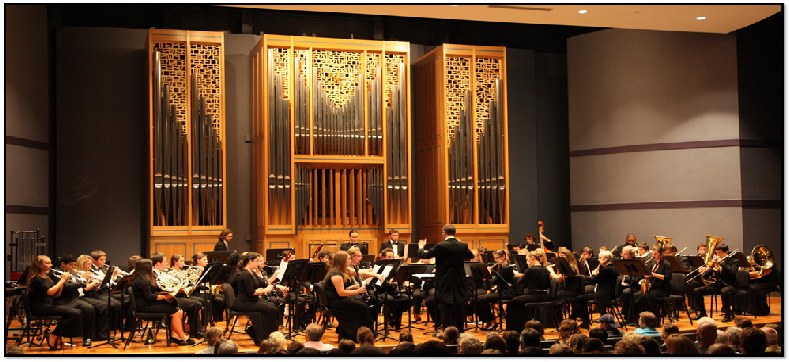 Audio
John Mackey's "Night on Fire" performed Dec 5, 2013.
Malcolm Arnold's "Four Scottish Dances" mvt 2 performed March 6, 2014.

Excerpt of Larry Groupé's "Heat Lightning" performed May 1, 2014.

Eric Whitacre's "Noisy Wheels of Joy" performed March 6, 2014.